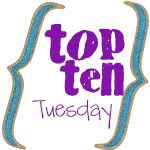 It's been awhile since I've participated in Top Ten Tuesday over at Oh Amanda so I thought I would jump back in. This week I'm listing out ten books that I'd like to read. My reading list is always growing, but these are some books that I've come across recently and I would like to read. Here they are, in no particular order:


As you can see from my list, my reading is all over the place. That and I am a neurotic mom who also likes a good novel.
To see more Top Ten lists, head over to Oh Amanda and check out all the links.